Best's Disease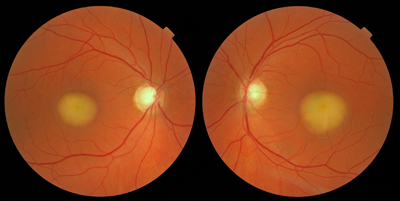 This is the best example of Best's Disease that I have ever seen. In fact it is the only example of Best's Disease that I have ever seen! It truly is a text book example. Best's disease, also known as Best's vitelliform macular dystrophy, is a hereditary form of progressive macular dystrophy. This example is at stage two of the progression through five stages. There is a high risk of progression to Partially Sighted status.
This 49 year old lady was seen for the first time in 2009 and was not previously a spectacle wearer. Despite claiming to have had an eye examination around the age of 20, she remained oblivious to her condition.
One might be forgiven for thinking that there is an element of head tilt, greater in the Left Eye, involved in these images, but the good positional match to images taken on a different day confirms that head position was good and results repeatable. Visual acuities are RE 6/9 LE 6/9.
The first impression of these images is that they are blurred, but that is actually related to the visual perception of blur cues. Look closely, and you will see that the retinal blood vessels are perfectly in focus. Superb, rare images with immediate visual impact.
Pan-Retinal Photocoagulation
This 60 year old male is a long standing Diabetic has had a lot of ocular treatment over the years, with laser burns of varying vintage.
This eye achieves only 6/18+ despite the current relatively clear appearance of the peri-macular area. This acuity is a legacy of previous macular issues.
This eye was graded as R1 M2 at our last Diabetic Retinopathy Screening appointment.
This image is a very good and impressive "text book" example of the species. The patient, who is well known to us, remains rather less impressed !
Macular Heamorrhage with Circinate Exudate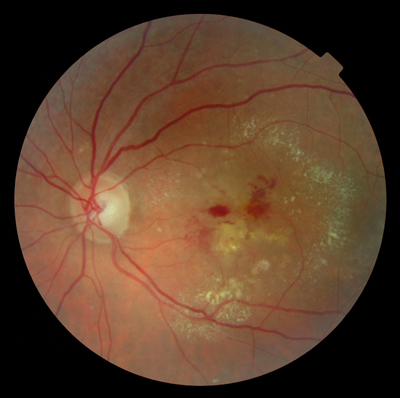 This 89 year old lady suffered this macular haemorrhage between eye examinations, and surprisingly was only vaguely aware of any reduction in acuity. This event brought this eye down to Finger Counting at 1m.
This good quality image shows good centration and position, and was achieved by a mixture of offering the fellow eye a fixation target and verbal instruction.
If ever there was justification for regular eye examinations in the absence of Patient symptoms, this is it.
Old Retinal Detachment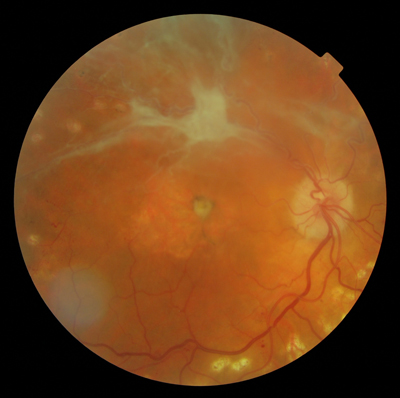 This 61 year old diabetic male suffered this detachment in 2001. With a prior acuity of 6/5- the result achieved today is 6/60.
This image is remarkably good, and better than expected considering the degree of Cataract involved.
How many other features can you find in this image ?
Central Serous Retinopathy with Pigment Epithelium Detachment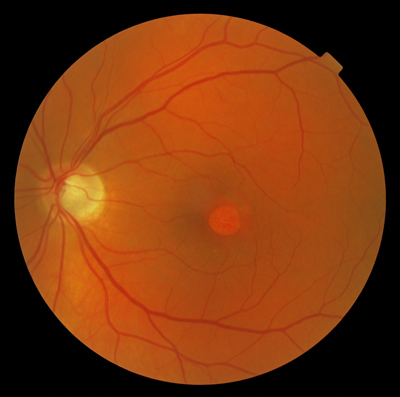 This 68 year old male is perhaps a little older than the typical type of person who normally suffers this usually monocular idiopathic condition. In this case the condition has progressed, and has an appearance akin to that of a macular hole.
Despite the appearance, this eye still achieves an acuity of 6/60, and is a good example of why not to try to pre-judge anticipated VA from an image.
This image is achieved through slight Cataract.
Bonus point for spotting further pathology, could you diagnose Glaucoma from this disc appearance alone ?
Retinal Detachment with Silicon Oil Vitrectomy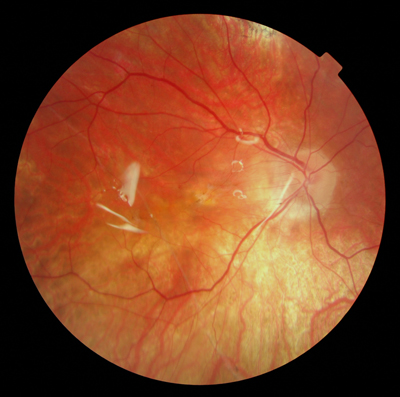 This 52 year old male alcoholic has had a string of procedures over a number of months following the initial diagnosis of detachment in August 2008, including laser treatment and gas bubble.
Silicon Oil Vitrectomy was performed in 2009, and this good crisp shiny appearance is typical. Can you locate the area involved in the detachment, and what other features would you anticipate finding with Volk fundoscopy ?
This eye now achieves Finger Counting at 1/2 metre, but one cannot help wondering if results might have been better with more patient co-operation and compliance.
Pseudoxanthoma Elasticum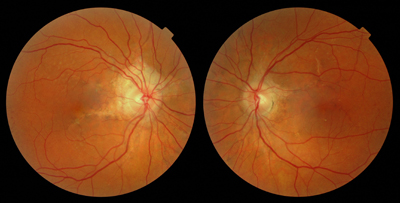 This 41 year old female is Diabetic with a family history of Glaucoma. She achieves RE 6/9+ LE 6/6.
The reported prevalence of Pseudoxanthoma Elasticum is around 1 in 160,000 births. It is a disorder of connective tissue with multi-system involvement. Involvement of the eyes, skin, central nervous system, heart, and GI system is usually present, as well as peripheral arterial disease.
Around 87% of patients with Pseudoxanthoma Elasticum have the associated angioid streaks as seen in these images. Angioid streaks appear as cracks deep to the retinal vascular architecture and originate in a ring like fashion in the peripapillary area and radiate from the optic nerve head coursing in all directions. Angioid Streaks are visible as dark red-to-brown bands and are variable in their pigmentation. These brown bands represent breaks in the thickened and calcified Bruch membrane. They almost always occur bilaterally.
From the Optometrists point of view, it is rare to see such a good example, clearly depicted as in these images.
Stargardt's Disease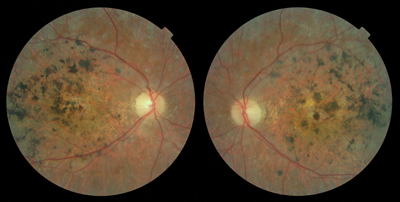 This 41 year old female was seen at the age of nine by my now retired Optometrist father in 1977, and was subsequently diagnosed with Muscular Dystrophy.
Stargardt's Disease is form of macular dystrophy that begins early in life. Dr. Stargardt first described this condition in 1909. It is one of the most common forms of a juvenile macular degeneration regardless of gender and may occur in one of every 20,000 children over the age of six. It is usually diagnosed before the age of twenty.
Having worked her way through Moorfields, and long since been Registered Blind, this lady is now actively involved in the provision of Low Vision services in the London area. Now resident locally again, and working remotely, she was referred back to me in 2009 by a local Ophthalmology department for Low Vision Assessment.
Achieving Finger Counting at 1/2 metre, this very determined lady uses a vast array of aids to live a very full life, well beyond what most people would ever consider possible with this degree of handicap. Our recent HES provision of a portable rechargeable electronic "Looky" magnifier has brought significant improvement to her ability to operate while "out and about" allowing her to achieve n5 in the Practice.
When did you last have a Low Vision patient who wanted to be able to read the embossed account number on a bank or credit card ? What do you think works best, Colour, Black and White, or White on Black ? What angle of view works best ? Have you ever tried to use a LVA to read a text message on a mobile phone ? If you are involved in the provision of Low Vision Services at all, then you should try these things. We have a whole new generation coming up who expect much more than just TV and the printed word.
Epiretinal Membrane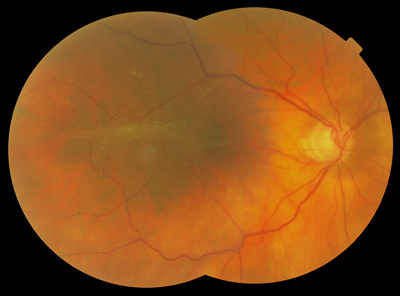 This 79 year old lady was seen by my now retired Optometrist father in 1993 when this eye achieved 6/9.
She re-appeared in the Practice in 2002, this eye having been poor for many years and now achieving 6/60. She claimed to have attended this Practice in the intervening years, and had the very bitter complaint that our Optometrist had "failed to deal with my right eye". She claimed that the Optometrist "Didn't notice that I couldn't see with my right eye, although I kept saying this".
One really has to wonder how long it will be before we are all struck off in a world where the complainant's position is upheld on the balance of probability rather than actual proof !
With uniform exposure through slight Cataract, and with good accurate positioning, these two images tile and blend very nicely. A good example of Epiretinal Membrane shown to good effect.
Naevus
This 64 year old male, with acuities of 6/9+ R&L has had this Naevus monitored by means of our Digital Retinal Imaging for a number of years now.
It is completely static, and we can say that with 100% confidence in a way that was not possible before the advent of this facility.
These four images tile well with very good registration, and blend well despite the extremes of eccentric fixation required and the resultant reduction in image illumination.
Persistent Hyaloid Artery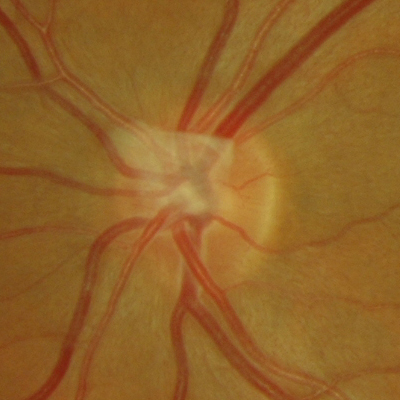 This 47 year old female was unaware of her Persistent Hyaloid Artery until she presented in our Practice in 2009. She achieves 6/9+ R&L and is otherwise unremarkable.
This image is a particularly good example of the more typical form of Persistent Hyaloid Artery, and being translucent, perhaps more difficult to detect by means of Direct Ophthalmoscopy in the years before Dilated Stereoscopic Fundoscopy and Digital Retinal Imaging were common in Optometric Practice.
Old Wet ARMD - Animated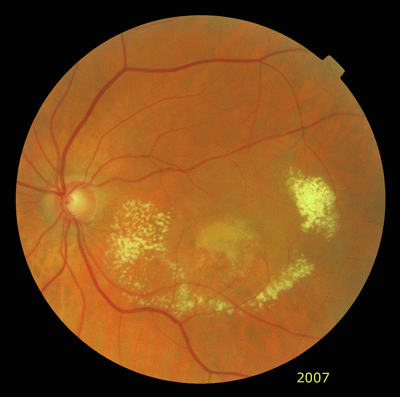 We referred this 75 year old female in 2007 when the Patient presented with symptoms. At that time the acuity was LE 6/36. Two years earlier in 2005 this eye had achieved LE 6/12.
No treatment was deemed appropriate, and later in 2007, the year of initial referral, the acuity had dropped to Finger Counting at 1 metre.
One has to wonder whether an examination in the intervening year of 2006 might have yielded an early warning, and this type of case certainly supports the Scottish recommended examination interval of 1 year for the over 60 age group.
Taken through slight Cataract, with consistent accuracy of Patient fixation and camera alignment, and good matches of dilation and therefore exposure, these three images animate extremely well, and show to effect the huge variation in appearance that can occur over time. Note also the subtle variation of venous calibre. This level of awareness was just not possible before Digital Retinal Imaging became routine.
Myopic Degeneration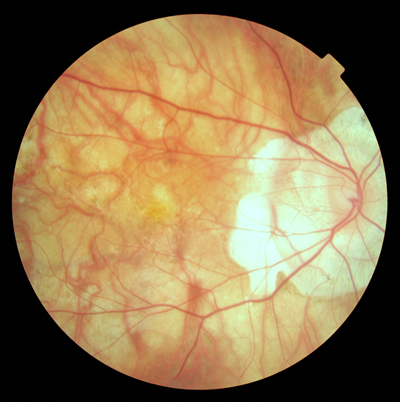 This 85 year old lady achieves RE 6/12 and LE 6/9 with a prescription of around -0.75.
It is easy to forget that prior to Cataract Surgery she was a -11.00 Myope, until that is, you see a fundus !
This is a classic example of text book quality, and looking at fundus image alone, one might be forgiven for anticipating a much lower level of visual acuity.
Drusen
There is nothing remarkable about Drusen. We see it every day in Practice.
This 98 year old lady does have a particularly nice crisp and well defined example of the species in this RE with an acuity of 6/12.
With only one larger Drusen and a little PPA, this is surely a text book quality image !
Bear Track Pigment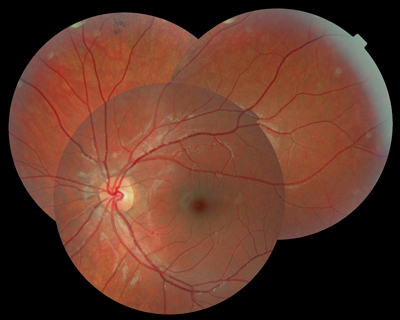 One criticism of Digital Retinal Imaging is the field of view achieved, and the primary image in this example shows clearly how much could be missed by relying on this discipline alone. Even with eccentric fixation the area of interest is on the edge of this tiled view and yet easily and clearly visualised by Dilated Stereoscopic Fundoscopy.
This 11 year old boy achieves 6/9+ R&L and is otherwise unremarkable. This Congenital Hypertrophy of Retinal Pigment Epithelium (CHRPE) is the rarer multiple localised pigmented lesions earning the title of Bear Track Pigment.
Naevus
Naevus or Melanoma ?
Melanoma or Naevus ?
This 86 year old lady achieves 6/5- with this eye, and we have been monitoring this lesion for a number of years now. This is yet another good example of why no Optometric Practice should be without the facility of Digital Retinal Imaging. How else can you be 100% sure that there has been no change in appearance.
The current verdict, supported by Ophthalmology is Naevus, but you have to admit ..... it looks suspicious !