Persistent Hyaloid Artery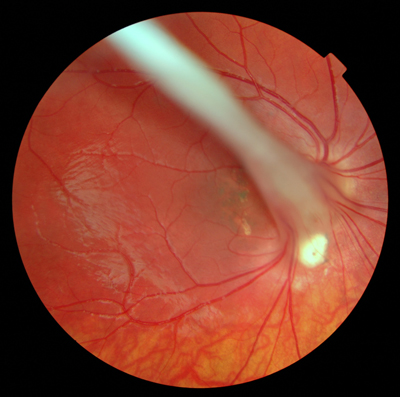 This is the best example of a Persistent Hyaloid Artery that I have ever seen. It truly is a text book example.
This young girl has only ever had "hand movement" acuity in this eye. Thankfully the other eye is perfectly normal. She has a resultant Right Exotropia with a small Right Hypertropia at distance. This switches to a Right Esotropia at Near.
At the age of six she developed a secondary cataract which advanced very quickly, becoming obvious even to the casual observer. She had Cataract Surgery following our referral, and this has provided significant cosmetic improvement.
This tremendous photograph was taken some eight years later and has superb 3D cues providing exceptionally good visual perception of depth from a 2D image.
Multiple Pathology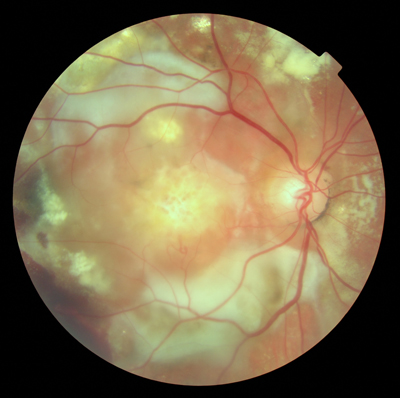 This eye achieves "Hand Movement", and to say that this is just ARMD would be an understatement.
It takes some considerable effort to achieve a well centered image with the retinal plane in focus when the patient is incapable of fixation. Verbal instruction only, to this very deaf patient provided this result.
The macula has suffered subretinal haemorrhage most probably from occult neovascularisation. There have been extensive retinal pigment epithelial changes, and this image shows drusen, exudate, and vitreous haemorrhage to name but a few. How many other features can you find ?
Choroidal Melanoma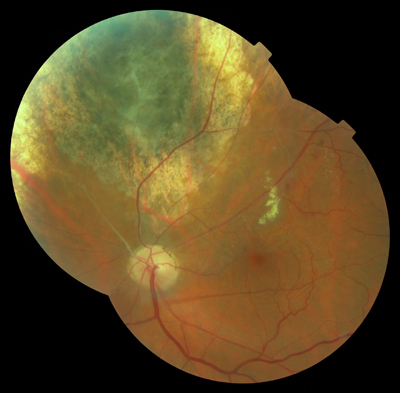 This patient with multiple systemic pathologies had radiotherapy and laser treatment to this eye around six years ago. With multiple pathology, this eye is currently stable and remarkably achieves VA 6/6+.
One of the advantages of dilated fundus photography is that the exposure achieved is much more predictable and constant between shots. As a result these images blend remarkably well.
The image registration is also close to perfect. I wonder if you can tell which image is on top, and I challenge you to find the join !
Macular Hole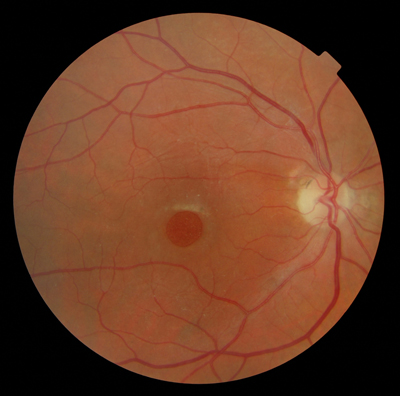 This large well defined Macular Hole is around nine years old, and was treated with Laser and a Vitrectomy at the time.
Subsequent Phako Emulsification was performed some four years later, with the Patient now achieving VA 6/60.
This larger than average lesion probably qualifies as a good "Text Book" example of the species.
Pre and Post Phako Emulsification - Animated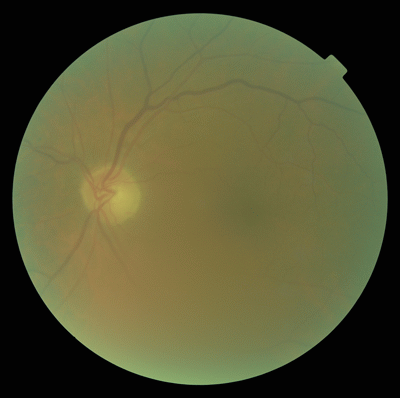 This patient was a routine Cataract Referral with an image taken two months pre-op. He was referred back to us for Post-Operative Review one month after surgery, providing the second image.
Some image quality is lost in producing an animation, but using just two images, this example demonstrates very clearly the huge difference in clarity that Phako Emulsification and Intra Ocular Lens Implant provide.
This eye achieved VA 6/18 pre-op, improving to VA 6/9+ post operatively.
In order to produce an animation like this, very good image "registration" is required. In other words the patient's position and fixation must be very good, and the operator's accuracy of alignment must also be very good. For the experienced retinal photographer these goals are just part of daily life, but it is always encouraging and re-assuring to see how good this accuracy can be, as proved by super-imposition.
Pre & Post YAG Posterior Capsulotomy - Animated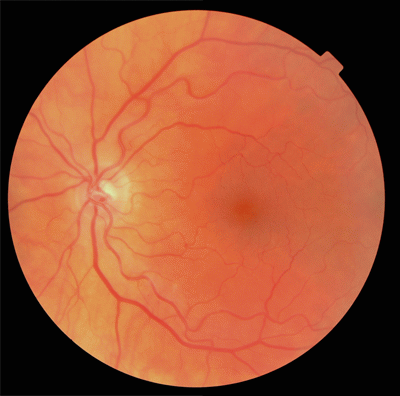 YAG Laser Posterior Capsulotomy is a common accelerated consequence of Cataract Surgery, and anyone involved in Direct Cataract Referral and Post Operative Review will be accustomed to assessing the need for this procedure.
Digital Retinal Imaging allows us to gain some insight into the degree of blur that can be caused by Posterior Capsular Thickening and Opacification, and how similar that effect can be to Cataract itself.
This animation comprises three images, starting with an image which is simultaneously three years post Phako and one year pre YAG. The following two images are three months pre YAG and two months post YAG.
Visual Acuities pre Phako were 6/12 R&L, and this improved to 6/9 R&L after surgery. Pre YAG, acuities had dropped to RE 6/18 LE 6/24+, returning to 6/9 R&L post YAG.
Follow this animation with this information in your mind, and this will help to relate the seemingly moderate blur in image quality to the potential acuity reduction realised.
Normal Healthy Young Eye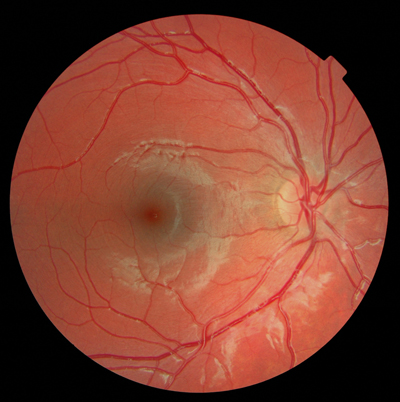 There is nothing wrong with this eye!
We still need good examples of what is normal though, and this is it.
Another "Text Book" quality image of a young eye with particularly good visualisation of the Nerve Fibre Layer and the Nerve Fibre paths. Good 3D cues of the Posterior Vitreous Boundary as it surmounts the retinal blood vessels.
It might only be normal, but it is still a stunning image.
Retinitis Pigmentosa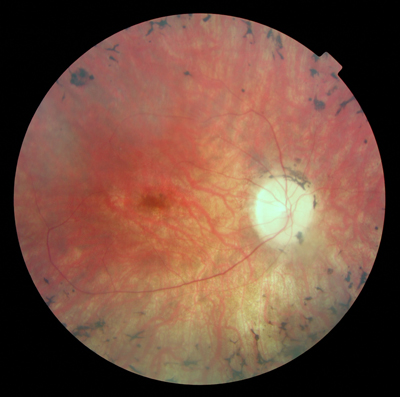 This profoundly handicapped patient had the unfortunate combination of congenital nuclear cataracts, high myopia, high astigmatism, and Retinitis Pigmentosa with resultant bilateral amblyopia, this eye achieving VA 3/60.
With the onset of superimposed senile cataract it was decided that referral for phako was appropriate, and once this had been done a clear view of the fundus could be achieved for the first time.
Having prescribed prescription spectacles for this patient for the last twenty five years on peripheral retinoscopy results only, there was some satisfaction in finding that there was close correlation in the astigmatic element of his post-operative prescription.
This image, while not absolutely perfect, was achieved with patience and perseverance with a patient who is always willing to try to co-operate, but is highly mobile and with an extremely poor ability to fixate, compounded by the difficulty of avoiding eyelids in the picture. With this relatively rare condition, and under difficult circumstances, I was very pleased to achieve this end result.
RNFL Haemorrhage - Animated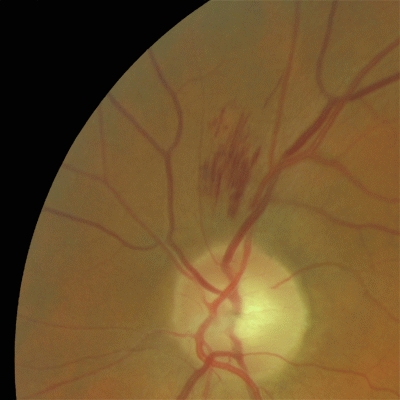 The new Scottish Eye Examination has provision for funded supplementary examinations which are intended to allow practitioners to deal with a whole host of issues in Practice, therefore avoiding the use of valuable Hospital time. With the high cost of Hospital Clinic time and the relatively modest fee paid to Optometrists for this service, there should be a massive NHS saving if this facility is utilised properly.
This significant Retinal Nerve Fibre Layer Haemorrhage was detected, part resolved, at routine Eye Examination.
With the Patient's consent, and having considered general health and medication, both eyes were monitored in Practice to ensure the expected resolution and to eliminate the possibility of undesired escalation.
The images forming this animation were taken 1/12, 2/12, 5/12 and 13/12 after, and including, detection. In that time span there was the progressive resolution animated here, no escalation or new occurrence in either eye, and the case was discharged.
Can you tell which of these images were taken dilated, and which were not ?
This is the best of both worlds. The Patient was delighted to receive local care, and with three funded supplementary examinations involved, the saving made by the Health Service over just one Hospital appointment remains very significant.
Old Wet MD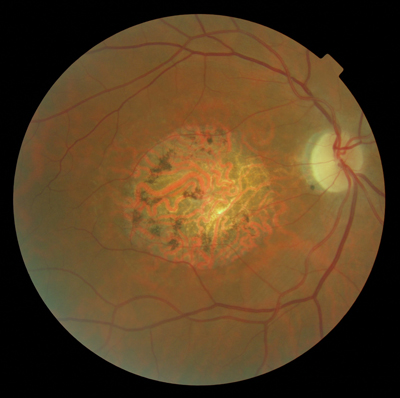 This patient suffered bilateral rapid onset Wet MD thirty years ago. With an onset age of 32 it is not really accurate to describe this as ARMD, but rather MD with a genetic predisposition. There is one sibling, and that sibling is similarly affected.
This myopic eye achieves VA "Finger Counting" at 1 metre. Our task was to provide an HES LVA to assist with close work. Remarkably, with a Keeler Spectacle Mounted 8x Aspheric Near Telescope with Distance Piece, n5 could just be achieved, with n8 being much more easily managed.
This image is achieved through slight cataract, and with the difficulty of achieving perfect centration with a patient who is unable to directly fixate a target.
Pappiloedema
Despite the fact that new university graduates entering their pre-reg year are primed to find a case of Pappiloedema every week, this is a relatively rare condition and one might only encounter a few examples in general practice over an entire career.
On presentation this eye was extremely photophobic which did not aid examination. Despite everything, VA was 6/9 with an IOP of only 22mmHg., this being only 7mmHg. higher than the normal fellow eye.
This is a classic presentation of "Text Book" quality, with a NFL disc haemorrhage included as a bonus.
Retinal Detachment Post Cryo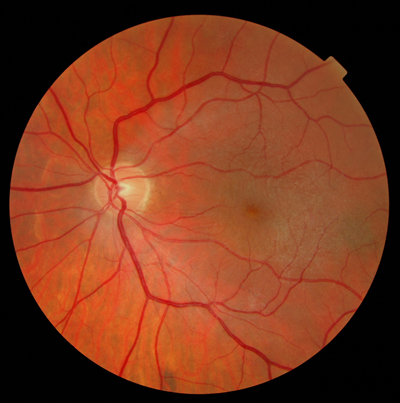 This 60 year old presented as an emergency new patient on my day off. Conveniently being 75 miles away from the Practice, remote diagnosis by telephone was required, and an emergency referral for Posterior Vitreous Detachment with Retinal Detachment to the Left Eye was initiated.
The second eye followed suit just five months later and a mixture of gas bubble , phako, cryo, and laser treatment has given good results in both eyes with acuities of RE 6/9 LE 6/12+.
At first glance, this primary position image of the Left Eye might look normal, but look closely. Can you find any evidence of what has gone on ?
Asteroid Hyalosis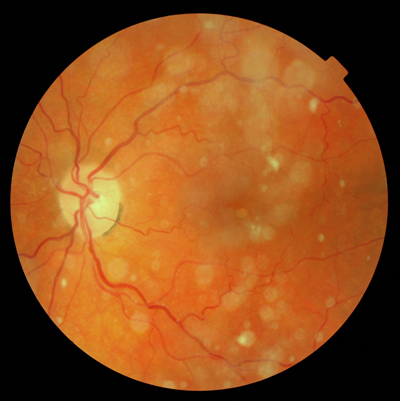 This is a good quality example of Asteroid Hyalosis with underlying mild dry ARMD.
The retinal plane is well focused, and the relative blur and blur circle size gives a good 3D impression of asteroid position and density.
This is the classic "looking through a snow storm" image.
Peripapillary Atrophy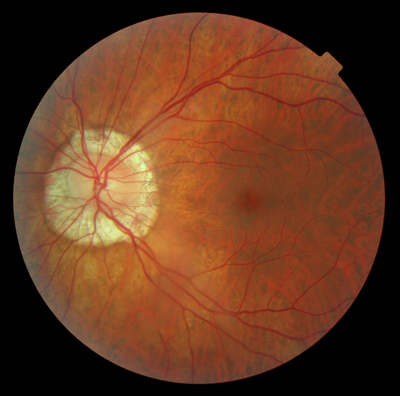 This 15 Dioptre Myope with Congenital Nuclear and superimposed slight Cortical Cataract provides a good example of Myopic Degeneration in the form of Peripapillary Atrophy.
Note the complete atrophy of the Retinal Pigment Epithelium and visibility of the Sclera with an outer boundary of reasonably regular hypertrophy of the Retinal Pigment Epithelium.
It is unusual to find such a uniform example of the species, and the quality of this image is very good considering the anticipated degrading effect of the Cataract in the equation.
Peripapillary Atrophy - Pair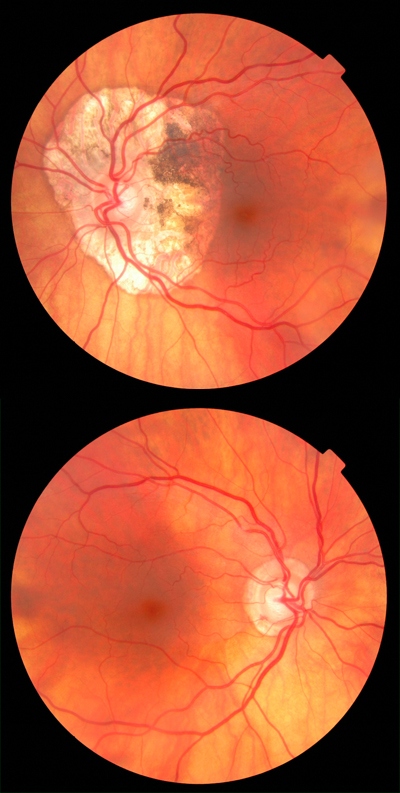 This is a nice example of Peripapillary Atrophy, with a massive difference of degree between the two eyes.
The Left Eye is the more striking of the two, showing complete atrophy of the Retinal Pigment Epithelium with visibility of the Sclera and scleral vessels, Hyper Pigmentation within the affected area, and with a varying outer boundary of irregular hypertrophy of the Retinal Pigment Epithelium.
Ophthalmology were initially unwilling to perform Phako Emulsification for this Left Eye, but post operatively VA 6/9 was achieved.
Two very crisp and clear images, two very good "Text Book" examples.
ARMD Progression - Animated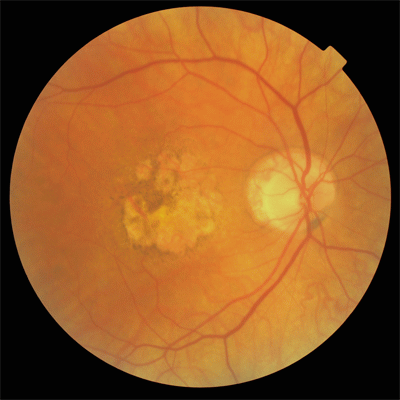 This 83 year old patient has some Glaucomatous field loss in this eye in addition to the PPA and ARMD that we are viewing through Cataract.
Or would you describe this as Geographic Atrophy ? What VA would you predict in a Patient with this extent of degeneration in order to justify the use of that term ?
Experience demonstrates time and time again that appearance is not necessarily an indicator of Acuity, and somewhat surprisingly this eye achieves 6/12.
One of the tremendous improvements that Digital Retinal Imaging brings to Optometric Practice is the ability to accurately detect, monitor, and evaluate changes over time.
This animation comprises just two images with a 13 month gap between them. With reasonably good image registration, these two images show very nicely the extent of change in that time. In addition to the progression of ARMD and PPA, note the change in Venous Caliber, and look closely at these veins as they disappear into the Optic Nerve Head, something which would probably have gone un-noticed by any other means.
Choroidal Melanoma - Progression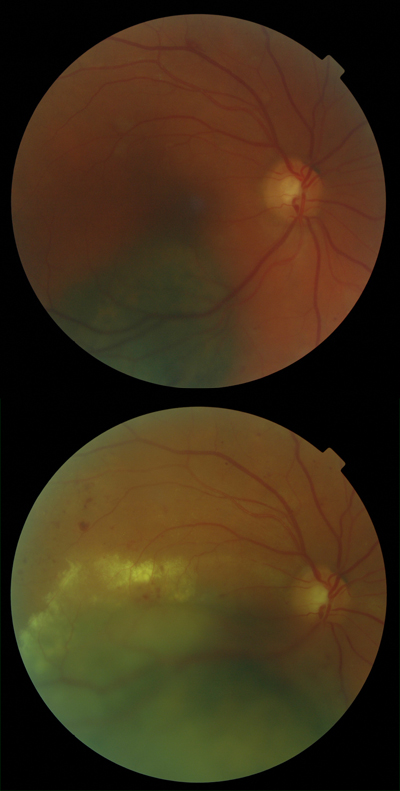 This is the unfortunate story of a Diabetic Patient with Cataract who presented with vague symptoms of difficulty at Near. The acuity in this Right Eye had dropped from 6/12 at her last eye examination 13 years earlier to "Finger Counting" at 2 metres, and the Patient seemed relatively unaware of this reduction.
The first image revealed a suspected Choroidal Melanoma with some elevation from the retinal plane.
This became an urgent referral to Ophthalmology, who took 4 months to decide that the acuity reduction was due to "Extra Foveal Disciform Sub-Retinal Haemorrhage", and that "there was nothing on Ultrasound Scan to suggest tumour".
These images are just 14 months apart, and the second image shows the massive progression which has occurred in that time. The increasing degree of blur as we move down this second image gives a good impression of just how far into the Vitreous this lesion now extends. The background Diabetic Retinopathy is inconsequential in this instance.
This Patient is currently undergoing Radioactive Plaque treatment, and has been informed by Ophthalmology that depending on the result of that treatment she may face Enucleation. We still await the final outcome.
Kerataconus - Pair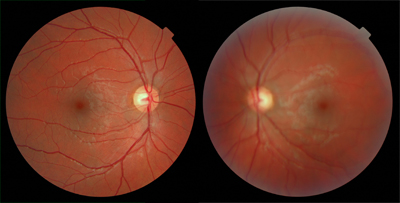 It might seem a bit strange to include an example of Kerataconus amongst sample posterior images, but just as there is something about a Retinoscopy Reflex which is instantly recognisable as Kerataconus, there is something about the type of blur generated by this corneal condition which becomes recognisable in a Digital Retinal Image.
This patient was referred to me by the HES for specialist contact lens fitting, and both eyes are affected, but as is obvious from these images to a slightly different degree! The Right Eye is only slightly affected, with the Left Eye at the stage where Corneal stability and integrity may become a concern.
Spectacle correction provides this Patient with acuities of RE 6/6 LE 6/24 with a Kerataconic Contact Lens bringing the Left Eye up to 6/9.
Out of interest you might wish to compare K readings of RE 7.53 / 7.83 with LE 5.50 / 6.05.
Congenital Disc Defect - Pair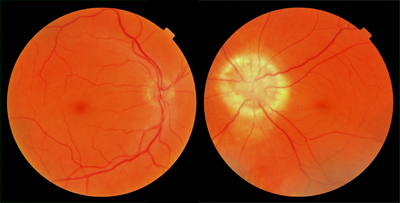 Viewed through slight bilateral Cataract, this Hypermetropic Right Eye is reasonably normal with occasional Drusen.
The Left Eye, with similar prescription, has a Congenital Disc Defect, and is Amblyopic achieving VA 6/18+.
While these images are not particularly sharp as a consequence of Cataract, there are a few things which make them worthy of inclusion.
Presented with only one single image from this pair, the observer would be forgiven for thinking that the Patient's head was not straight at the point of capture, and that "Head Tilt" is involved. Seen as a pair it is clear that the usual "Macula below the horizontal mid line" is accentuated in this case, with good symmetry evident.
Experienced Fundus Photographers will be aware of some degree of Cyclotorsion between images in the same Patient, and the range of variation between Patients. These images demonstrate that on image face value alone, it is never safe to assume a poorly aligned Patient.
In addition, compare and contrast the blood vessel paths, and general appearance, noting the lack of symmetry which one might otherwise expect.
Finally, consider the size of the Optic Disc in the Right Eye. This eye is moderately Hypermetropic which must be factored in, but is this small Optic Disc completely normal ?
Normal Young Healthy - Pair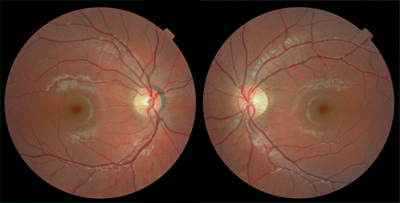 A fine example of a pair of Normal Young Healthy Eyes.
Both of these images are tremendously crisp and clear, giving extremely good visualisation of the Nerve Fibre Layer and the Nerve Fibre paths. Good 3D cues of the Posterior Vitreous Boundary as it surmounts the retinal blood vessels.
Good symmetry, which shows that the normal macula position is slightly below a horizontal mid line centred on the Optic Disc. Note also another common feature, a well defined Pigment Crescent evident in one eye only.
Lubricus Michina Vestigium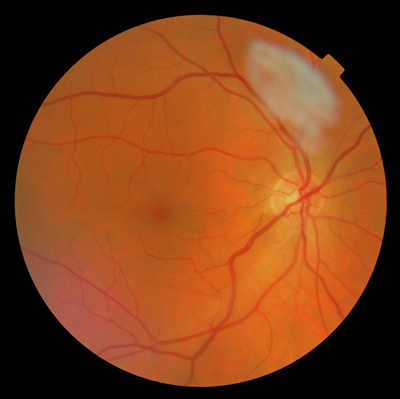 Lubricus Michena Vestigium, or LMV, used to be a rarely seen condition, many practitioners having worked for their entire career never having seen an example.
In recent years it has become significantly more prevalent, and is expected to become increasingly so. A significantly higher than the average expected number of cases has been found in the Ayrshire and Arran Health Board Area of Scotland over the last three years, with an anticipated epidemic spreading over the whole of Scotland over the coming year.
This is a particularly good example of the species, with most others being much more subtle, and sometimes difficult to discern. Note the pinkish hue opposite the main lesion. These lesions are typically noted to be bilateral, occupying the Patient's same vertical hemi-field and the contra-lateral hemi-field.